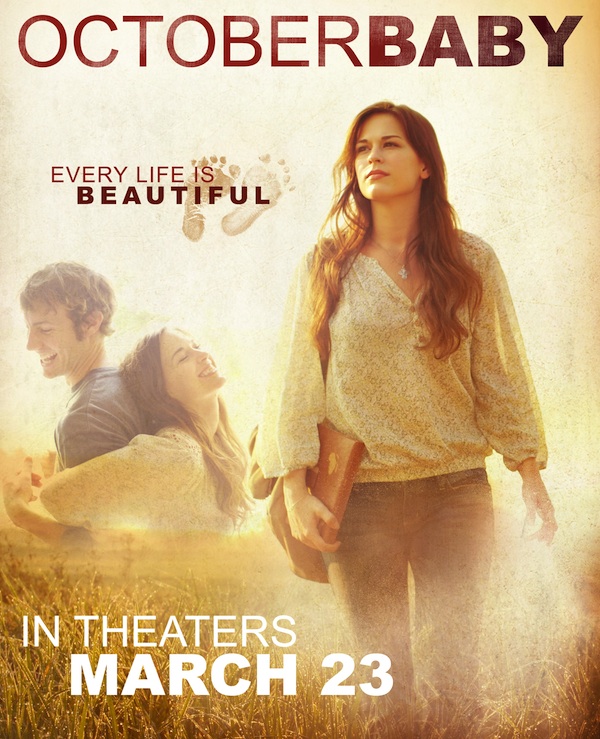 A good friend of mine has been working hard the past few weeks to organize a free showing of the movie October Baby at our local movie theater. Her desire is to reach many young women with a pro-life option, and most importantly, to share the gospel with them. Would you please join me in praying tonight asking God to move in a big way to glorify His name and to reach the lives of many in our little community?
From Jen~
Two local moms have set out to reach local youth with a message of LIFE, offering a free showing of the movie "October Baby" FREE to all students at Timbers Theater on Friday, June 14th at 7pm.
The goal is to reach as many kids as possible, who have more than likely not given much thought to their own position on abortion, before they're faced with making that choice for themselves.

In our country, nearly 1 in 4 pregnancies end in abortion.

More often than not, those involved believe the lies that they are told about babies in the womb being merely "tissue", and have learned that the value of the life of a child is secondary to that of the mother.

This movie does a fantastic job of putting these assertions into perspective.
Best of all, the Gospel is presented in the film!

Pray that hearts and minds will be changed and God will be glorified.
We are asking for believers to support the event with prayer and to help spread the word to the youth.

We ask that you urge the teens in your lives to come and bring friends they know would benefit from seeing the film.
For a Focus on the Family Plugged In review of the movie, click

here

.